As far back as I can remember (and that's further back than I can now remember), I wanted to be an artist. Back then I didn't really know what that ment. I have a recollection that my mother wasn't to keen on the idea. I was inspired by the the great masters. Those great artists from the distant past. The masters of immortal imagery..... that's right, Walt Disney and 'Big Daddy' Ed Roth. Ya, Mickey Mouse and Rat Fink. Hey, ya gotta start somewhere.
Eventually cartoons and hot rod art gave way to psychedelic poster art along with a little music thrown in. In the late 60's while in the Coast Guard I landed a year long job as the 14th district artist. The application for the job was to design a ships plaque. So it was there at headquarters in Honolulu HI where I learned the in's and out's of graphic design and photography, working on the CG publication Pacific Shield. I eventually transferred to a rescue station in Winchester Bay OR where I spent a considerable amount of time painting murals and signs.
Even with the brief exposier to both graphics and fine art that I was allowed in the military, I still didn't know how to go about becoming an artist.
In the early 70's I studied art and art history with a little radio broadcast thrown in at Mt Hood Community College in Gresham OR. It was during this time that I realized that I had a natural understanding of perspective and a particular talent for line drawing. This lead me into the world of home designers and something called renderings. Today a rendering might be referred to as a 3d drawing. I would take the blue prints of a house design and render it. After doing a few of these renderings for local home designers and architects, I thought I'd expand my business. I went to the phonebook and looked up 'rendering' and found a couple of listings. So I put on my professional voice and made a phone call. I asked if they hired freelancers..... a moment of silence.... the lady said "freelancers?" I thought maybe she was new, didn't know about us freelance artists types. So I explained. She was confused then was amused.... "This is a rendering plant", she said, "we render animal parts". We had a good laugh.... After 50 years, it still makes me chuckle.
So my artistic journey started as an 'architectural' rendering artist. After a couple years, I ended up teaching architectural rendering to the architecture students at MT Hood CC. 7 years later I was off on a much different adventure.
One day in 1982, I got a letter from a friend who was living in Wiesbaden Germany wanting to know if I wanted a job as an illustrator for the American Military Club System. I said "yes". Within a couple of months, I was moving to the other side of the planet.
My job with the club system was to create imagery for everything from door signage to theme based art for weeknight dinner specials and publication illustrations. It was an interesting job but working for the government was challenging. One of my favorite stories involve a 3ft x 4ft illustrated sign I created for the American ice cream booth at one of the German- American Friendship festivals. I went early to the festival to help set up the artwork but couldn't find it. It was a rainy morning and the grounds were muddy in places. After checking around and getting nowhere I noticed that on the ground, in the mud, in the booth area was what looked like the back of the sign I had created. It was.... when I asked the booth attendent about it, she told me it was there to keep her boots from getting muddy. Then there was the time I had to xerox and hand staple 700 activity information booklets for the troops coming in for the war games. And when I say 'hand staple', I mean opening up a standard desk stapler, driving the staple through the pages then turning the booklet over and bending the staples closed. This was somehow beyond the scope of the in house print shop.
Fortunately there were lots of distractions to the club system job. Mostly in the form of travel and castles. I just couldn't get enough of the old villages and the architecture. I did lots of castle drawings both fantasy and reality based. But in time even that couldn't offset the daily aggravation with a government job. So in the mid 80's I came home and restarted my freelance commercial Illustration business but this time added photographyand logo design to the mix.
It was during this period of time that I started painting. Being a fine artist, a painter, was the original dream of my youth. However the bills were being paid by the commercial jobs. I had the great fortune to work with Soloflex, the Oregon Wine Magazine, Oregon Association of Hospitals, OHSU, Portland Magazine as well as local marketing firms and a couple of wineries. In the early 90's an interesting change took place.
In 1990 I found my way into the grocery store decor business. Grocery stores were starting to dress up for their customers. I contracted to Commercial Design Systems doing interior graphics and design This was great fun because I was using all my talents in one job. I was able to assist with the design, create large graphics, all of which were hand painted. Many times I did the faux painted walls and perimeter striping. I did all the renderings and quite often did the photography of the finished project. But that fancy shopping experience didn't last for ever.
In 2000 I was picked up by a traveling art rep. Island International was artist rep company that specialized in etchings. I had some experience doing etchings in college and this seemed like a great opportunity to get into fine art which was the original dream. They were also carrying my original artwork but I wasn't completely happy there so when I got noticed by Ray Stock Fine Art I jumped at the chance. I was happily painting 20-30 pieces a month. The pieces ranged in size from 8x8" to 12x36". I felt I'd finally made it. I had romantic notions about growing old and dying at the easel. Then July 2, 2007 I received a call from Ray saying that he had 60 of my pieces in stock and I could take a break. Because I was so prolific, being over stocked occasionally wasn't so strange. I'd lay off for a month then start up again. This however was something quite different. Galleries were going out of business like crazy as the economy was tanking. After a year and a half I had to do something, I had a house and all the bills that come with it.
In my life there has been three things I've wanted to do. Be an artist, be a musician and be a truck driver. As of this writing, 2019, I've been driving a truck for 11 years. For the most part I shut down the studio and it became a bit of a tomb. I covered up my etching press and the easels. They sat unused for several years. I rarely went in. I was in fact lost. I took sketchbooks on the road with me but eventually music replaced the sketchbooks. I had been writing songs since I was a teenager but it was never serious. I guess you could say it was music that rescued me and gave me hope. I certainly had enough to write about.
The economy has been trying to make a comeback for several years now despite the current uncertainty in the White House, I'm hoping to find my way back into the wholesale art world. Traveling reps seem to be a thing of the past so I'll be doing it old-fashioned way.
UPDATE
Today is February 6th 2021. I quit trucking in November of last year and have been adjusting to a life I used to know so well. I've added a "New Pieces" page to the website so check back and see what's new.
Thanks for your interest!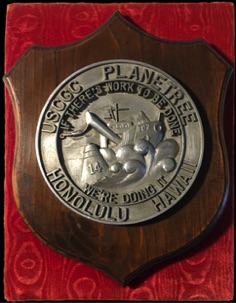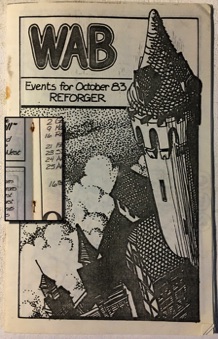 1968-69 The plaque for the Planetree CG307. It was also a patch. Sadly I don't have the patch anymore. but I've always treasured this plaque. There were only 25 of these cast. As the designer, I received one of them.
The original mock-up of the 1983 Wiesbaden Air Base war games event booklet. A 10 page guide of things to do for the incoming troops. The inset shows the now rusty hand bent staples. This is likely the only copy in existence.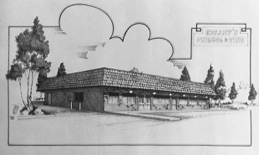 A couple architectural renderings from the late 70's. Top: The Lake Realty office in Lake Oswego OR. Designed by W.D. Lloyd Architect/ The Design Forum. Bottom: I don't remember the architect on this one.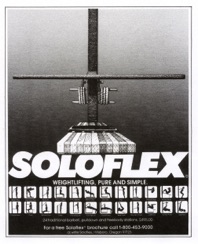 I had the good fortune to work with Soloflex early on. This was their first full page ad in Rolling Stone magazine. Aug 1982 issue.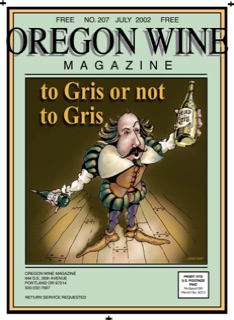 For 13 years I had great fun doing the covers for the Oregon Wine Magazine working with Elaine Cohen and Richard Hopkins.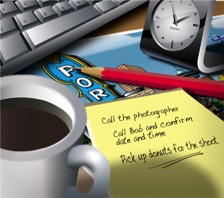 A computer illustration from one of my favorite jobs. This was one of many illustrations I did for Charlton Marketing's website. Many of the images depicted fun views of Portland OR.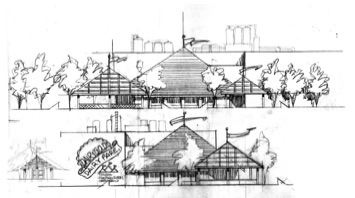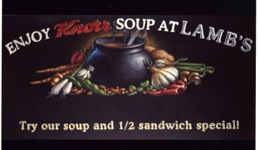 A 8x40' mural for one of the fancy natural grocery stores. I think it was Natures.... it was a fun project.
A couple designs options for the Darigold cheese factory in Sunnyside Washington
One of the probably 100's of chalk art pieces. This one for Lambs grocery store.
History and Gallery information. (the long version, you'll need a pillow for this one).
ONE MAN SHOWS
1986 The Old Church, Portland, OR. Featuring oil paintings, ink drawings and lino cuts.
1986 Mulhausen Winery, Newburg, OR. Featuring oil paintings, ink drawings and lino cuts.
1987 Mulhausen Winery, Newburg, OR. Featuring oil paintings, ink drawings and lino cuts.
1990 Down Town Cafe, Roseburg, OR. Featuring Photographs and ink drawings.
1991 Key Bank, Portland, OR. Featuring oil paintings, ink drawings and photographs.
GROUP SHOWS
1988 Kieling Gallery, Aurora, OR. Featuring photographs.
1989 Kieling Gallery. Aurora, OR. Featuring photographs.
1990 Soiree' d Art, Portland, OR. Featuring oil paintings, ink drawings and photographs.
1990 The Resort at the Mountain, Welches, OR. Featuring oil paintings and graphite drawings.
GALLERIES
In 2000 I was picked up by Jack Kidder who was a traveling art rep. when he retired I was picked up by Island International Artists and later moved to Ray Stock Fine Art. These traveling reps purchased my work and placed it in galleries around the United States. I have no idea how many galleries I may be in. I've listed the few that I'm aware of along with the galleries I delt directly with.
1985 One Main Place Gallery, Portland, OR. Featuring ink castle drawings.
1990-95 Raindance Gallery, Portland, OR. Featuring oil paintings.
1990-94 NW by NW Gallery, Portland and Cannon Beach. OR. Featuring oil paintings.
1990-95 Barbies Custom Interiors, Manhattan Beach, CA. Featuring oil paintings.
1990-95 Lisa's Custom Frame Shop and Gallery Manhattan Beach, CA. Featuring oil paintings.
1991-95 Attic Gallery, Portland, OR. Featuring oil paintings.
1995-96 Lawrence Gallery, Newburg, OR. Featuring oil paintings.
1995-97 Carnegie Center Gallery, Oregon City, OR. Featuring oil paintings.
1999- present Main Street Gallery, Chelan WA. Featuring oil paintings, etchings and drypoint prints.
1999-2013 Columbia River Gallery, Troutdale, OR. Featuring oil paintings, etchings and drypoint prints.
2000-present Mission Gallery, Cambria, CA. Featuring oil paintings.
2000-present Village Gallery, Multnomah Village, OR. Featuring oil paintings.
2000-present Kennedy Studio, Portsmouth, NH. Featuring oil paintings.
2000-present First Street Gallery, Turlock, CA. Featuring oil paintings.
2019-present ALSO Arts Gallery, Troutdale, OR. Featuring oil paintings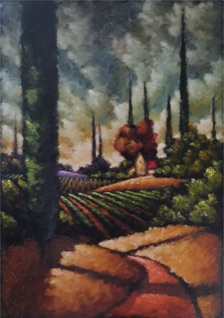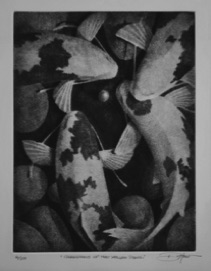 Shiva Paintstik on museum board
Limited edition Dry Point print on Rives BFK paper.